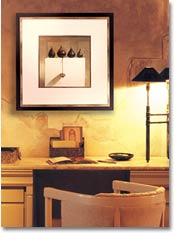 Practice: You can cut templates of your art from paper and try arranging them on the wall to see how the framed art works in the space. You can also measure the amount of wall space you have to work with and arrange the paper on the floor.
Composition: Consider your frame grouping as a single unit.
Space: Your arrangement should hang closely together. If you have too much space between pictures you lose the visual effect.
Order: With the exception of a round grouping, hang pictures so that they form at least one horizontal and one vertical line.
Color and Texture Balance: Pay attention to color and texture when working out your arrangement. Keep the weight of your composition well distributed.
Create Visual Excitement: Definitely mix and mingle your prints by different shapes and sizes, keeping the weight of the composition well distributed.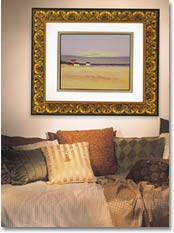 Scale: Consider proper scale when decorating your walls. Support large furniture with large wall hangings and small funiture with small wall hangings. Hanging small picture frames over a large sofa or large pictures over a small loveseat will appear awkward and disrupt the balance of your room. (Groupings taken as a single unit can be considered a "large wall hanging.")
Distance: When hanging framed art above furniture the general rule is between 6 and 8 inches. If not above furniture, hang your frames at average eye-level.
* * *
You can accept the default framing option:  A nice black square cornered frame, white matte, and acrylic glazing.  Or, you can get as specific as you want.  Click customize to select another frame, one, two, or three mattes from a wide selection of colors, and a range of glazing options.  You can even approximate the color of our walls to help ou choosing colors.